Business planning
Your company has developed a browser-based web application for managing finances, the name of the product is Wallit.
In this module you will learn about business planning, covering also the following topics:
Business planning
Analyzing planned and actual data
Starting development projects
Cash flow in practice
Different conditions of payables and receivables; managing VAT
Understanding working capital
Unexpected business events with the accounts receivable
The Challenge
The "Wallit" market scenario in our BUSINESS PLANNING course and simulation is designed to simulate the challenges that companies face and to inspire you to make decisions in everyday situations.
This business case has a special focus on business planning.

During the simulation, participants manage a fintech application called Wallit, which is designed to help its users track their income and expenses. With the help of this software, users' regular expenses become transparent, and they will be able to save money by controlling expenses. The app is available online through a website and works on a monthly subscription basis.
Participants make decisions in these areas:
Development
Website, front-end and back-end
Security
Legal protection
HR
number of employees and salaries
Sales
Ad campaign budget and prices
Image marketing
Subscription fee (pricing)
Business plan and business forecast
How effective is the participant in defining the inputs of the business plan and the business forecast?
How is the business plan linked to the overall strategy of the company?
Success is measured by
The overall profitability and cash position of the enterprise
How new markets are explored and grow: the growth of the subscription base
The competitive position of the enterprise at the end of the simulation
How effectively the participant manages to construct the business plan
Skills to be obtained
Elements of planning; stages in the planning process
Understand the financial consequences of decisions
Defining and executing corporate strategy
Managing operational and strategic challenges
Self-confidence in decision-making
YOUR PRODUCT
Your fintech application, Wallit was created to help its users track their incomes and expenses. With the help of the software, the regular expenses will be transparent, and users will be able to save money with expense-control. Your app is available online through a website, and works in a monthly subscription basis.
FIRST STEPS
Your company started a few months ago, when it received capital from an investor, but the money is running out quickly, currently you have still some money in your account.
Good news is that the software is already ready, and the service is up and running. The company also has some income now through its subscribers.
GOAL
Your goal is to explore new markets and grow your subscription base, plan your costs and incomes, and manage the company to success. It is important to constantly develop your application, to provide an ever improving product in the market.
COMPETITORS
There are similar products on the market, with whom you need to compete for the subscribers.
Your company's marketing development made a preliminary market research, which shows that users pay around a certain amount a month for a product like this, but maybe it is worth trying to sell it on a little higher price.
STATISTICS, MESSAGES
The management staff will visit and inform you from time to time. At the end of each month, you can review corporate statistics , and analyze data to determine the actions of next month.
Business planning as a business simulation
Business planning is a process that can be called a guide for management. It includes the assumed revenues and expenses of the company – allocates resources, which will be guidelines for achieving the goal. Now you can test yourself in this role through our business simulation, learn what is important, what to pay attention to and how to gradually achieve the set goals. Of course, you can divide your business simulation learning and training sessions into several parts and return to it where you left it and also whenever you want.
Our Online business simulation is divided into twelve periods. Each of them focuses on a different, specific management skill. Business planning focuses, as the name suggests, on planning the business, controlling progress and checking whether the set goal has been achieved.
Business planning is an interactive simulation that is using gamification elements. The aim is to plan the process of selling, improving, acquiring new subscribers and expanding the market. As we can read in the introduction, thanks to our online business simulation, you will learn about the following topics:
Business planning
Analyzing planned and factual data
Starting development projects
Cash flow in practice
Different conditions of payables and receivables; managing VAT
Understanding working capital
Unexpected business events with the accounts receivable
Your product is the Wallit. A browser-based web application for managing finances. As in other courses, instructional videos appear at the very beginning. The first focuses on the short characterization of your company, the goals, and assumptions you need to achieve and the development phases of your company. The second video focuses in more detail on the presentation of the company and product, clearly defines the goals of the game and your tasks as a manager. The videos are short but contain all the important information and clearly define the goal and rules of the game.
At the very beginning of the simulation, you receive messages from your coworkers, in which they briefly describe what they do. After reading them, the game starts. The first thing we see is the axis divided into five modules. Each of them lasts a certain amount of time and the whole period lasts one year. This is your time when you decide on everything related to your product and also business plan.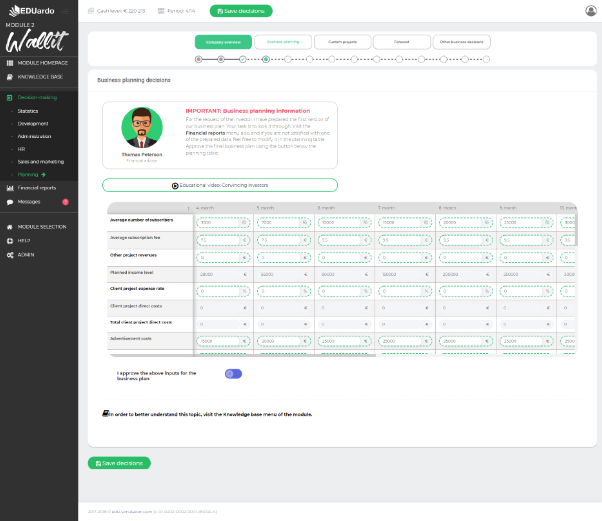 The business simulation requires future-oriented and strategic thinking about brand development and attracting more and more subscribers. You make decisions that have a real impact on the further business simulation. You have to face crisis situations and manage your company's budget wisely. What the module focuses on is business planning. Although you get a proposal for a business plan from an expert, you can modify it at will, depending on whether you want to take risks or prefer to act more securely. Importantly, every month you receive a report that contains statistics, billing and possible tips on what to work on or invest in so that the consumer who chooses your product is fully satisfied.
What is worth noting is the unlimited access to the Knowledge base, where you can find videos and articles explaining particular issues. So if you need new information or fixation of those you already have, you can do it at any time, without any obstacles and in the form that suits you.
If you managed to complete the business simulation with good results, you get an evaluation of your work. Each category is rated on a scale from 1 to 7. If you have not reached the maximum in one of them, you can read the tips – what else to work on, what to pay attention to or what to improve.
If you failed to pass the simulation – you go bankrupt – but don't worry. You can repeat the online business simulation as many times as you want during the license period. It is also a great way to learn and train, because it allows you to learn from mistakes. If you know what you did wrong, you will try not to make the same mistakes the next time, and in this way you will develop and train your skills.
After a successful end of the game, a quiz is unlocked, which checks your knowledge about the course, which is Business Planning. These are 15 questions about what you have been exposed to throughout the business simulation. The result of this quiz is given as a percentage.
Conclusion
If you want…
To strengthen conscious, foresightful planning?
To strengthen the corporate approach of your organization (employees, trainees, colleagues, etc.)?
To expand their knowledge to understand the context of decisions in relation to planning activities?
To communicate the importance of planning in practice?
Then our Online Business simulation is the platform for you
Participants can learn how to see the bigger picture as they face complex decisions and understand the importance of business planning.
Our platform will walk you through the following:
In this module, the participants learn about business planning and also cover the following topics:
Constructing a business plan and forecasts for the model enterprise
Analyzing planned and actual data
Selecting and analyzing development projects
Managing cash flow
Managing different conditions of payables and receivables, as well as VAT
Understanding the elements of working capital
Facing unexpected business events relating to accounts receivable
Expected Outcomes
Practical experience in planning – going beyond the concepts
Becoming familiar with the elements of business planning circles
Understanding of plan-actual analysis
Learning to handle challenges Understanding of dilemmas in business planning
The Business Planning simulation is a great way to learn. Thanks to its form, the user can feel like a company manager, have a real impact on success or failure.
You don't need to refer to specialist books and tutorials, because everything is available in this online simulation. This is a very pleasant method allowing the user to develop and train abilities and skills in a given field and for sure it is worth to check it out.
Access & Subscription
Our Online Business course and simulation for BUSINESS PLANNING can be used as a facilitated or non-facilitated online training program for individuals or groups.